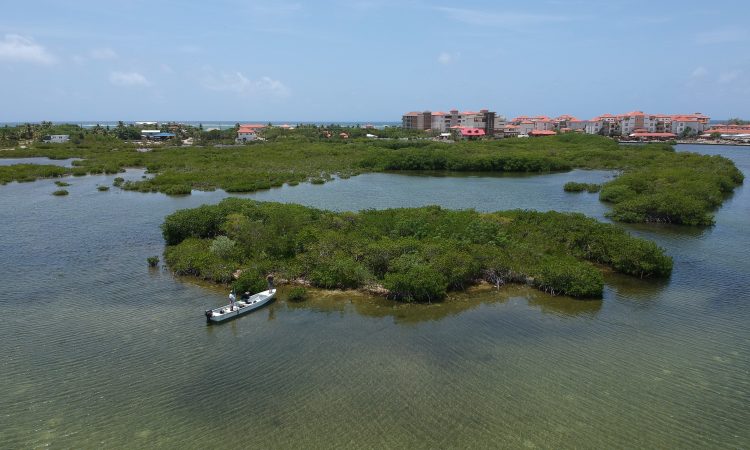 20 minutes boat ride from San Pedro town, inside the "lagoon".
Circa USD $69,500, very affordable.
We recently returned to Belize to revisit some of the islands already on our short list and to explore some new options on the market. Bone Fish Caye caught our eye with both the location and price tag.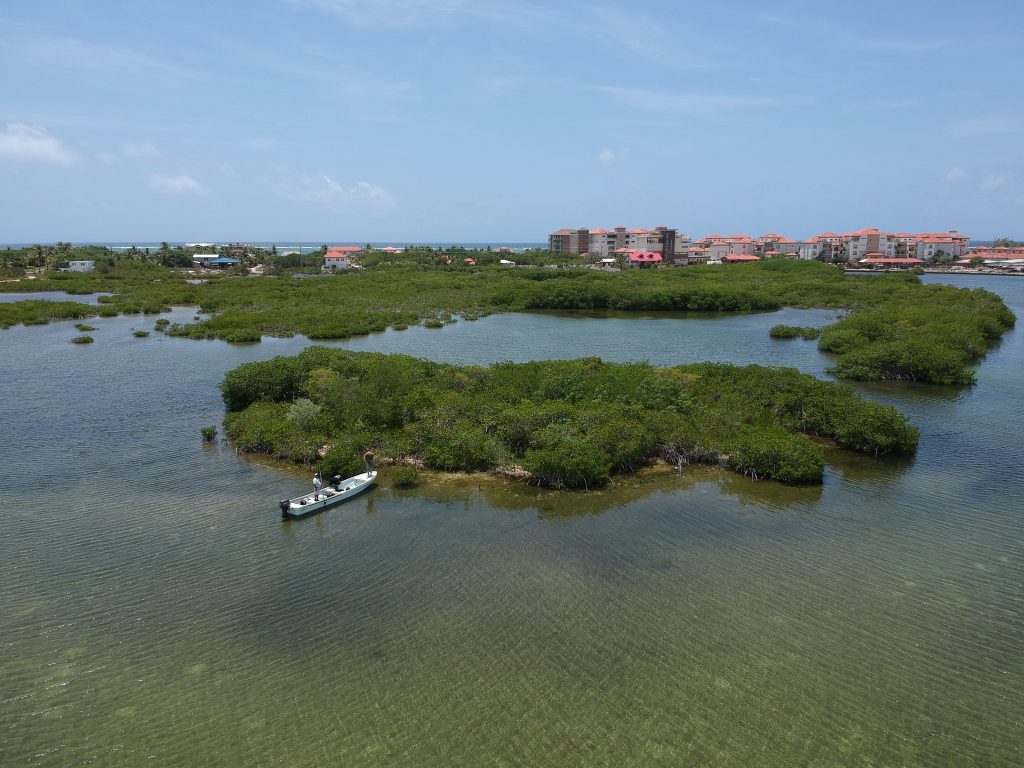 Location
The location of Bone Fish Caye is something of a blessing and a curse. The blessing is the island's proximity to San Pedro town, a very popular rural town with a beach, diving opportunities and some nightlife. San Pedro has no major airport of its own though. It's serviced by two local regional airlines. There is a regular water taxi that connects San Pedro to Belize City which takes 1.5 hours with one stop at Caye Caulker on the way. Despite the distance, a fair number of tourists make it up this way.
The 'curse' is the island's proximity to Ambergris Caye, the island on which San Pedro sits. Though the island is a decent distance from San Pedro town, there are a number of resorts on Ambergris Caye that sit only a few hundred meters away from Bone Fish Caye. While we were there we could hear trucks revving their engines and cement being mixed; there's certainly a lot of development nearby which does take away from some of the 'remote tropical island' feel.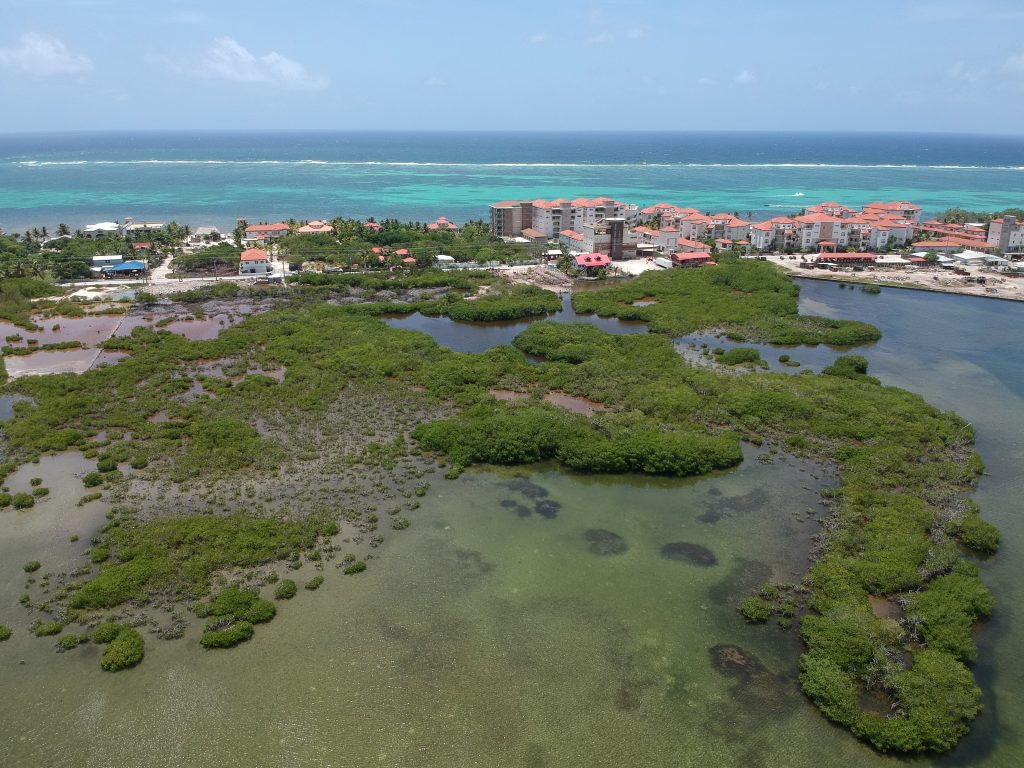 The boat was unable to land directly on the island as it is 100% mangroves at the moment, though you can tell through the thicket of mangroves that there seems to be solid land underneath, which is important. Further, we arrived at high tide, and even then the water was so shallow we had to use a pole to push ourselves in for the last 10 meters or so to the island. It's unclear how much land, if any, is exposed at low tide, and how much shallower it can get. There is a chance that it may even connect to the neighboring island at low tide.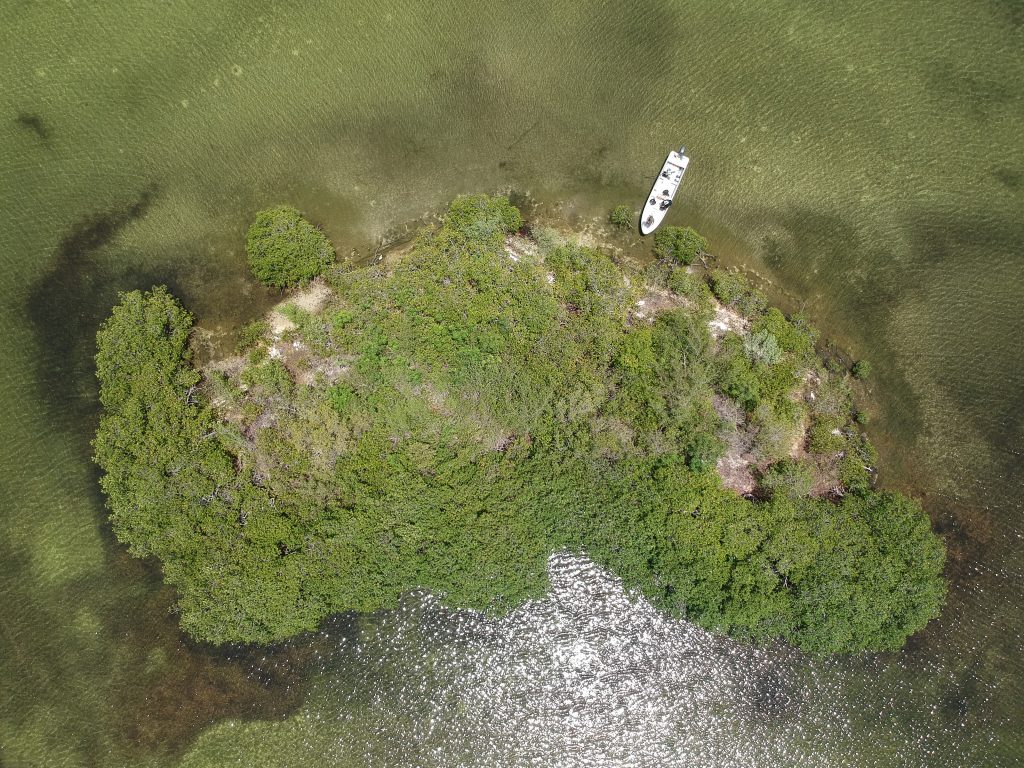 The 'lagoon' the island is situated in is the west side of Ambergris Caye. It's called a lagoon even though it's part of the more open ocean because it is protected from the open sea by Ambergris Caye. It was calm, very calm, with no waves to speak of. The water is often shallow even in the open water. Twice we were asked by the boat captain to sit on the bow of the boat so the engine would rise to higher level so we could proceed without issue!
What is the island like?
You will see from the pictures that the island is fully overgrown with mangroves. Any areas that might be swampy would need to be filled in. The west side of the island faces relatively nothing, just water and more undeveloped islands. The east side faces hotels, resorts, and other buildings.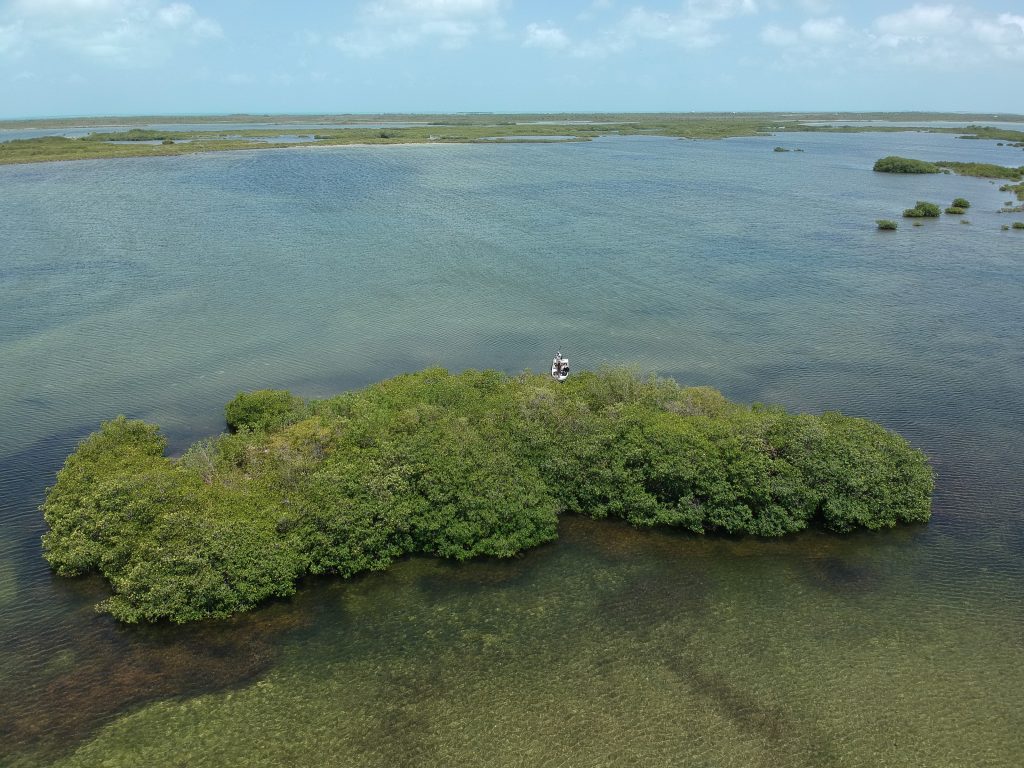 The island is around ¼ acre. As with the other islands we've explored in Belize, we would be able to reclaim the 66 foot, 30 meter government setback, which could expand the total usable area, though we would be limited to building on the ¼ acre land without further permits and cost.
The island is pretty flat, with ground level roughly 0.5 m above sea level. There is currently no development on the island (all mangroves).
There is good mobile phone signal on the island.
Are we buying the island?
We could buy this in cash tomorrow! But there are a lot of costs that will go into developing it. We must evaluate these as an inherent cost to the island: cheap to buy, but must be fully cleared, filled as needed, and developed in the shallow water. There's definitely a strong risk of unforeseen costs for development here.
It's in a well-served tourist town. It is not quite as isolated as some of the others, but it's accessible by boat and has good cell reception. There's more than enough rainwater to provide consistent freshwater access.
We have lots of momentum on this project with more investors coming on board all the time and this island offers a lot of things our investors and our future customers are looking for.
We are still looking, but we are getting very excited as we near the end of our search!
Our own boat?
We would likely need to invest in a boat in this or any area. It will be a larger upfront cost (around $10-15k USD) but will significantly reduce our costs in the long-run. Anyone driving our boat would require a Belize captain's license; this isn't too onerous to obtain however and there are plenty of good boat captains who we would be able to work with.
Overall, this was a great opportunity to see a new and interesting island, and another on the list for consideration!
Have any questions? Want to get involved? Email us! Use the contact forms on this website to reach our founders directly!